Welcome To
Hindustan

Packers and Movers

Hindustan Packers and Movers established in Noida (India), is a dedicated and fast expanding Indian moving company in India with our own offices in India. Within a short span of time, we have achieved considerable success and are now counted amongst the top moving companies in the region, which is a proof of our commitment to our vision. While meeting the core objectives of the business, we also recognize our corporate responsibility to the world at large.

Hindustan Packers and Movers success is built upon dedication to quality and service. We are totally committed in providing quality relocation management with pre-determined plans, value added services, professional risk management, accurate communication and proper documentation. We have dedicated laborious and expert staffs to make easy task of relocation that include packing, unpacking, transportation, loading, unloading, etc. We can assist in your shifting in more and more convenient ways. You can select one of our listed moving companies.
Mission
To provide 100% client satisfaction with the Packers and Movers Service. Get linked with common person in rural area. Provide the basic need services to common man.
Vision
To become most known brand in India for transportation.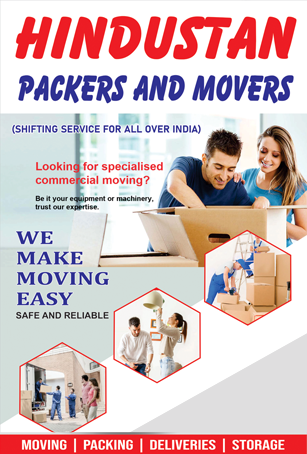 Our Testimonials
"Team was polite and respectful. They are working very hard and doing fast work in moving our goods safely to another location. We scheduled a other packers and movers and they could not help us in the last minute. Fortunately, Hindustan Packers and Movers accepted our packing and moving request and they have done it well. They were prompt in time and and have responded very quickly. All the goods were handled safely by the workers with care. Hassle free service done by the team."
VIKASH SINGH
"I approached Hindustan Packers and Movers for shifting my home. Really awesome service which I never expected. They did a great service. Such a professional packing and good quality service. Their packing seemed very professional using carton boxes and perfectly sealed. They packed the entire room in less than 20 min. The goods were transported very safely and reached the destination on time, overall best service for reasonable price. Strongly recommended!"
Om Sai
"Hi, I am Raghvendra Singh and I have shifted my home through Hindustan Packers and Movers, It was a good experience with Hindustan Packers and Movers. I have never seen anyone pack things this good. I had lots of household goods, they packed everything, dismantled necessary things, brought it safely without a single scratch. I was really surprised that they asked about my experience after the shifting and they made a video for the same. Thanks"
Raghvendra Singh